13 Oct 2018 Leave a Comment
by Michael in Books, Duckworth Tags: Book Cover, Children's Literature, Cover Reveal, Duckworth, Duckworth the Difficult Child, Funny Picture Books, Julia Sarda, Michael Sussman, Picture Book
Cover Reveal!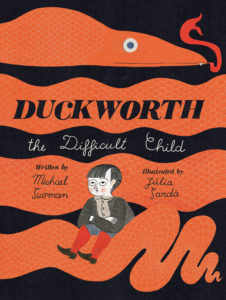 Here's the brilliant cover for my new picture book–DUCKWORTH, THE DIFFICULT CHILD–to be published in June by Atheneum Books for Young Readers, an imprint of Simon & Schuster. My illustrator, Júlia Sardà Portabella, is based in Barcelona and has done an astounding job on the artwork. Thanks also to art director extraordinaire, Sonia Chaghatzbanian, and my fantabulous editor, Emma Ledbetter! 
Duckworth's parents think he is a difficult child, so when a snake slides right up and swallows him whole, his parents don't believe him! What's poor Duckworth to do?
DUCKWORTH, THE DIFFICULT CHILD is available for pre-order at Amazon.
Subscribe in a reader
28 Feb 2017 2 Comments
by Michael in Books, General, Uncategorized, Writing Tags: Atheneum Books for Young Readers, Book Deal, Children's Literature, Duckworth, Edward Gorey, Emma Ledbetter, Florence Heide Parry, Funny Picture Books, Harold Underdown, Julia Sarda, Karl Monger, Michael Sussman, Otto Grows Down, Picture Book, Scott Magoon, Stephanie Fretwell-Hill, the Difficult Child, The Shrinking of Treehorn, The Treehorn Trilogy
I haven't posted for quite some time, as I've been hard at work on a novel. But I'm back with three exciting announcements:
The story, my homage to Florence Parry Heide's The Shrinking of Treehorn, is about a boy with misguided parents who remain untroubled when he gets eaten by a snake.
This is my first picture book to be published since my debut—Otto Grows Down—was released by Sterling with illustrations by Scott Magoon.
Special thanks to Harold Underdown and Karl Monger—as well as Emma Ledbetter at Atheneum—for their expertise in editing the manuscript.
Subscribe in a reader
04 Jul 2013 2 Comments
by Michael in Books Tags: James Burks, Monsters, Picture Book, Tara Lazar, Writing for Kids While Raising Them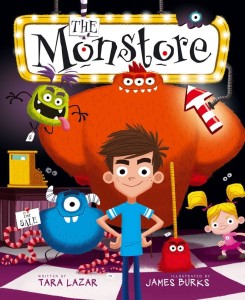 Tara Lazar is an amazing woman with an amazing name that just sounds like the moniker of a children's author. She is also a wonderful mother to two adorable daughters, a blogger extraordinaire, and a tireless advocate and promoter of picture book authors and illustrators. Her annual writing challenge, PiBoIdMo (Picture Book Idea Month)—hosted on her website each November since 2008—has inspired hundreds of folks to stretch their imaginations and brainstorm picture book ideas, some of which have been developed into manuscripts that went on to be published.
Well, I'm thrilled to announce that Tara's debut picture book—The Monstore—has just been released by Aladdin, and it's a doozy!
The Monstore is the kind of story that kids will want to read over and over again, and the delightful illustrations by James Burks ensure that parents will also enjoy repeated readings.
Underneath a trap door at the back of Frankensweet's Candy Shoppe is the Monstore, catering to all your monsterly needs. Zack is in need of a monster to scare off his pesky little sister, Gracie, who ignores the "Keep Out!" sign on his bedroom door. But the plan backfires, and unable to return his monster—the store policy is "No Returns, No Exchanges, No Exceptions"—Zack soon has a houseful of goofy-looking beasties who turn against him, teaming up with Gracie to frighten Zack. Ultimately Zack proves he can be a good older brother, but it's Gracie who steals the story and comes up with a clever resolution.
A great story coupled with brilliant illustrations adds up to a superb picture book that is sure to be a bedtime favorite. Check it out!
The Monstore
Story by Tara Lazar
Illustrations by James Burks
Aladdin, 2013
ISBN-13: 978-1442420175
Available at:
Amazon.com
BN.com
IndieBound
Subscribe in a reader