My Books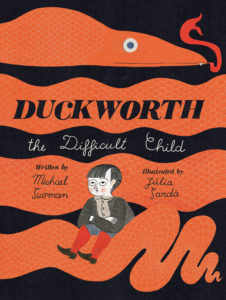 DUCKWORTH, THE DIFFICULT CHILD
Atheneum Books for Young Readers, 2019
Michael Sussman, Author
Júlia Sardà, Illustrator
ISBN: 978-1534405127 (Hardcover)  
ASIN: B07MNJ5R6N
Duckworth's parents think he is a difficult child, so when a snake slides right up and swallows him whole, his parents don't believe him! What's poor Duckworth to do?
Duckworth is a difficult child.
At least that's what his parents think.
So when Duckworth tries to explain that a gigantic snake slithered out of his closet, his parents insist it's all in his head—he is far too old to be imagining such nonsense. (And will he please do his chores?) But even when the cobra slides right up and swallows Duckworth whole, his parents remain unconvinced! (Where did he find that snake costume, and will he please put it away?)
What's poor Duckworth to do when his parents just won't listen? With nods to the deliciously dark humor of Edward Gorey, Florence Parry Heide, and Jon Klassen, Michael Sussman and Júlia Sardà empathize with children everywhere who must find ways to deal with their difficult parents.

Buy Paperback or eBook From: 
INCOGNOLIO
Janx Press, 2017
ISBN: 978-0999131213 (Paperback) 978-0999131206 (eBook)
ASIN: B074GRGHKR
Unravel the mystery of Incognolio or go mad!
When a strange title for a novel hijacks his mind, Muldoon traverses identities, planes of reality, and the dark recesses of his psyche in an effort to grasp the enigmatic Incognolio. Is he writing a story in which his stillborn twin sister has come to life, or is he the one who died at birth and it's his sister who's writing the novel? Guided only by the whims and dictates of his subconscious mind, Muldoon must finally face his demons and write his way to freedom or succumb to madness.
 CRASHING EDEN
Solstice Publishing, 2012
ISBN: 978-1476019895
ASIN: B007Z1N3A6
For one boy and his friends, the path to Paradise comes at a cost—one they may not be prepared to pay.
When a biking accident leaves 17-year-old Joss Kazdan with the ability to hear things others can't, reality as he knows it begins to unravel.
A world of legends exists beyond the ordinary life he's always known, and he is transported to the same Paradise he's studying in World Mythology. But the strange gets even stranger when his new friends build a device that delivers people through the gates of the Garden of Eden.
Now Samael, the Creator God, is furious. As Samael rains down his apocalyptic devastation on the ecstasy-seeking teens, Joss and his companions must find a way to appease Samael—or the world will be destroyed forever.
 OTTO GROWS DOWN
Sterling Publishing, 2009  
Michael Sussman, Author
Scott Magoon, Illustrator
ISBN: 978-1402747038                                                                     
You Otto Be Careful What You Wish For!
Ever wish for something with all your heart and not have it come true? Otto might consider you lucky. He wished his ruinous little sister was never born and it comes true when time starts going in reverse! If he doesn't think of something fast, he'll disappear entirely. Otto is a modern Benjamin Button who reminds us to love the ones we're with.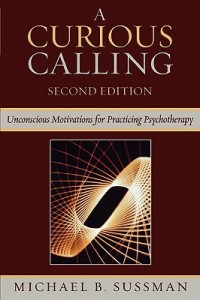 A CURIOUS CALLING:

Unconscious Motivations for Practicing Psychotherapy
Rowman & Littlefield, 2007
ISBN: 978-0765705525
The road to becoming a professional psychotherapist is typically long and arduous. Once having arrived, the actual practice of psychotherapy is emotionally taxing and the process is frequently characterized by a good deal of anxiety, ambiguity, and doubt. What are the underlying motivations that provide the impetus for such an undertaking? This is the complex and intriguing question to which this book is addressed. The care of other people rather than oneself is a superb form of adaptation – but only if the self is also cared for. By recognizing and mastering the more pathological sources of their wish to heal, psychotherapists can ultimately heal their own wounds and achieve a more truly loving a creative helping capacity.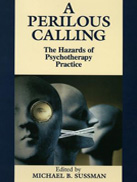 A PERILOUS CALLING:

The Hazards of Psychotherapy Practice
Wiley, 1995 
ISBN: 978-0471056577
What are the consequences of prolonged exposure to the mental and emotional sufferings of others? In what ways can the practice of psychotherapy impede a person's ability to form healthy, fulfilling personal relationships? Is it true that psychotherapists are unusually prone to mental illness, drug and alcohol abuse, sexual acting out, workaholism, and suicide? Is there something about people who are drawn to a life in psychotherapy that puts them at higher risk of developing certain behavioral disorders?
Now in a candid and revealing look into the private and professional lives of psychotherapists, a group of noted practitioners attempt to answer these and other hard questions about the women and men who pursue this most perilous of callings.
Throughout the pages of this fascinating book, nearly thirty psychotherapists–including psychologists, psychiatrists, psychoanalysts, and social workers–provide intimate, at times painfully frank, accounts of their inner experiences and struggles. In a series of compelling first-person narratives, written in a variety of styles, they explore such topics as the therapist's personal development and unconscious motivations for becoming a therapist, the emotional impact of clinical work on the psychotherapist, the stresses and strains that the practice of psychotherapy can exert on a marriage, parenting and psychotherapy, disillusionment and the physical and psychic isolation of clinical work, the struggles of therapists who suffer from characterological problems of their own, and the extreme perils of dealing with suicidal patients. They also delve into a number of important professional, ethical, and legal hazards practitioners face in this age of the medical "quick-fix."
A Perilous Calling offers readers unparalleled insight into the psychotherapist's deepest concerns and conflicts. It reveals the perils of practice and candidly explores how some psychotherapists have learned to cope with them. In reading this book, professionals will learn how to take better care of themselves both in their professional and personal lives and will find new ways to transform those perils into opportunities for growth and mastery. At the same time, their patients, friends, and loved ones will gain a deeper understanding of these complex and uniquely caring individuals.