23 Jun 2020 Leave a Comment
by Michael in Books, Duckworth, Writing Tags: Atticus el Chico Dificil, Children's Literature, Dark Humor, Duckworth, Duckworth the Difficult Child, Editorial Impedimenta, Funny Picture Books, Julia Sarda, kidlit blog, Picture Book, Spanish, Spanish Literature
A Madrid-based publisher, Editorial Impedimenta, has released the Spanish edition of my recent
picture book—Duckworth, the Difficult Child—illustrated by the illustrious Júlia Sardà of Barcelona. It arrives with a new title—Atticus, el Chico Difícil—but remains the darkly humorous story of a resourceful boy coping with neglectful parents who fail to listen or respond to his needs. I'm honored to be published by Editorial Impedimenta, an independent publisher that aspires to promote "modern classics."
Subscribe in a reader
18 Jun 2019 Leave a Comment
by Michael in Books, Duckworth, General, Writing Tags: book bloggers, Book Launch, Children's Literature, Duckworth, Duckworth the Difficult Child, Funny Picture Books, kidlit blog, Picture Book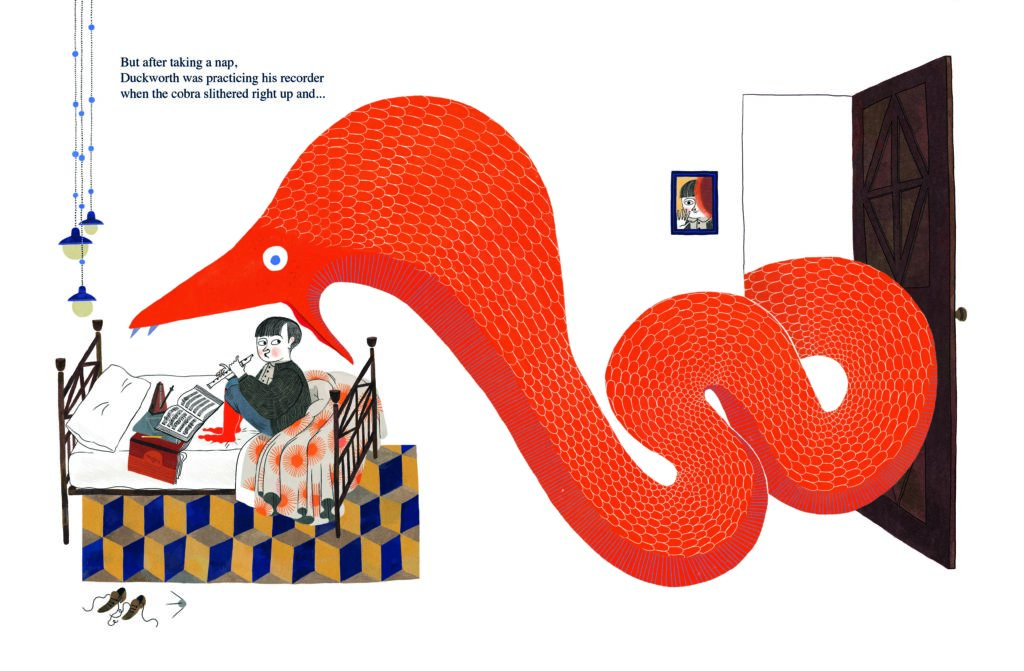 At long last, my new picture book—Duckworth, the Difficult Child—hits the shelves today. With spectacular illustrations created by Júlia Sardà, I think both kids and parents will love this story.
Special thanks to Emma Ledbetter, my extraordinary editor, and to Stephanie Fretwell-Hill, my excellent agent. I'd also like to thank Harold Underdown and Karl Monger, who were invaluable as early editors of the manuscript.
From the Booklist review:
"What first appears to be a Goreyesque cautionary tale for troublesome children comically turns the tables to target inept parents instead. … Sardà plays up the story's situational humor in her detailed, vintage-toned watercolors, ensuring that kids get the joke that the parents are the difficult ones, not Duckworth. A lightly macabre, utterly amusing read." i
13 Oct 2018 Leave a Comment
by Michael in Books, Duckworth Tags: Book Cover, Children's Literature, Cover Reveal, Duckworth, Duckworth the Difficult Child, Funny Picture Books, Julia Sarda, Michael Sussman, Picture Book
Cover Reveal!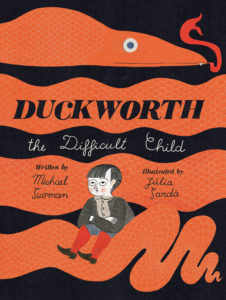 Here's the brilliant cover for my new picture book–DUCKWORTH, THE DIFFICULT CHILD–to be published in June by Atheneum Books for Young Readers, an imprint of Simon & Schuster. My illustrator, Júlia Sardà Portabella, is based in Barcelona and has done an astounding job on the artwork. Thanks also to art director extraordinaire, Sonia Chaghatzbanian, and my fantabulous editor, Emma Ledbetter! 
Duckworth's parents think he is a difficult child, so when a snake slides right up and swallows him whole, his parents don't believe him! What's poor Duckworth to do?
DUCKWORTH, THE DIFFICULT CHILD is available for pre-order at Amazon.
Subscribe in a reader