31 May 2012 Leave a Comment
by Michael in Crashing Eden Tags: Crashing Eden, Crashing Eden Giveaway, Crashing Eden in paperback, enter to win, free copies, Goodreads, novel giveaway, YA novel, young adult
I am giving away two free copies of Crashing Eden. Enter to win at Goodreads, where the contest runs from today through June 8th. Open to anyone from the U.S. or Canada.
Subscribe in a reader
15 May 2012 2 Comments
by Michael in Crashing Eden Tags: Amazon, book bloggers, books r us, Crashing Eden, Crashing Eden in paperback, I am a reader not a writer, Nicki J. Markus, Solstice Publishing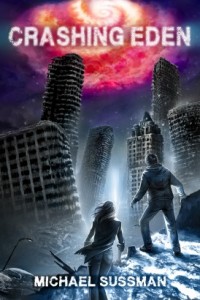 I'm happy to announce that my novel, Crashing Eden, is now out in paperback. It's available at Solstice Publishing and at Amazon, where it has garnered several 5-star reviews.
I've also been busy doing interviews on various book blogs, including Nicki J. Markus, I Am a Reader Not a Writer, and Books R Us.
I'm grateful to those generous bloggers and invite others who might be interested in doing a review, interview, and/or giveaway to contact me.

And any filmmakers who might be interested in making the novel into a movie can access my dreamworld via this portal. 😉
Subscribe in a reader