13 Oct 2018 Leave a Comment
by Michael in Books, Duckworth Tags: Book Cover, Children's Literature, Cover Reveal, Duckworth, Duckworth the Difficult Child, Funny Picture Books, Julia Sarda, Michael Sussman, Picture Book
Cover Reveal!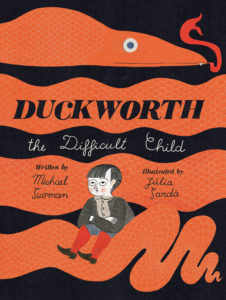 Here's the brilliant cover for my new picture book–DUCKWORTH, THE DIFFICULT CHILD–to be published in June by Atheneum Books for Young Readers, an imprint of Simon & Schuster. My illustrator, Júlia Sardà Portabella, is based in Barcelona and has done an astounding job on the artwork. Thanks also to art director extraordinaire, Sonia Chaghatzbanian, and my fantabulous editor, Emma Ledbetter! 
Duckworth's parents think he is a difficult child, so when a snake slides right up and swallows him whole, his parents don't believe him! What's poor Duckworth to do?
DUCKWORTH, THE DIFFICULT CHILD is available for pre-order at Amazon.
Subscribe in a reader