01 May 2012 4 Comments
by Michael in Crashing Eden Tags: Crashing Eden, e-book, paperback, release date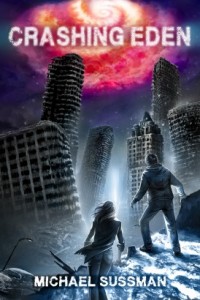 I'm pleased to announce that the e-book releases today. The paperback will soon be available as well.
Like most novels, this one has its flaws. Like most works of art, the finished product pales in comparison to the original vision.
Still, I'm genuinely happy with the book and feel proud to have written it.
I'd like to be one of those authors who ignores reviews, but I'm incapable of such restraint. Reading negative reviews can be tough, of course, but I take comfort in noting that all my favorite novels have plenty of 1-star reviews on Amazon.
Anyhow, I'm looking forward to feedback from followers of this blog. And I'm looking forward to starting a new project!