News
8/19/12
VFA Post: Visionary Fiction Challenges Our Species to Evolve
8/17/12
Visionary Fiction Alliance website goes live.
8/12/12
Guest Post: How I Wrote Crashing Eden
8/10/12
Guest Post: Writing from Your Unconscious
7/19/12
Interview & Giveaway at Tara Lazar's blog
7/9/12
Interview & Giveaway at Brandi Kosiner's blog.
7/5/12
Interviewed by my local paper, The Cambridge Chronicle.
6/25/12
Interview and Giveaway at Laurie's Thoughts & Reviews
6/3/12
Review & Giveaway by Mandee Wyrick at Compelled by Words.
5/24/12
Interviewed by author, Darcia Helle, on her blog: A Word Please.
5/15/12
The paperback is out!
I'm also interviewed by Cheryl Malandrinos from The Children's & Teens' Book Connection.
5/13/12
Interview & Giveaway at I am a Reader not a Writer.
5/3/12
I'm interviewed by Nicki J. Markus and by Melissa from Books R Us.
5/1/12
Hooray! Solstice has released the e-book version of Crashing Eden. 
4/24/12
The release date for the e-book will be May 1st!
(The paperback will be released a week or two later.)
4/13/12
The cover is done!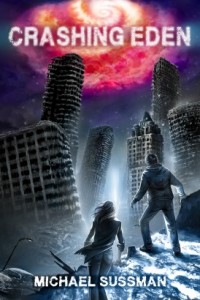 4/7/12
The cover of Crashing Eden will be ready any day now. It's being designed by the fabulous artist, Vitaly Alexius.